Acrosser Technology AMB-A55ET1, an industrial Mini ITX motherboard, is based on the AMD Brazos G-Series Dual Core T56N APU with AMD Hudson-E1 A55E which integrated with AMD Radeon™ HD 6320 and supported Directx 11.
The AMB-A55ET1 is equipped with 1x VGA , HDMI and LVDS connection on the rear I/O panel, as well as 2 Mini PCIe slot for mSATA/USB, and 8 USB 2.0 which can satisfy most requirements of industrial appliances. Onboard SO-DIMM socket supports up to 4 GB of DDR3 1333 memory. Most important, AMB-A55ET1 still can support Windows XP, and provide better VGA performance to digital signage.
Overall speaking, acrosser Technology AMB-A55ET1 this industrial grade motherboard is suitable for any Industrial computer or embedded computing applications.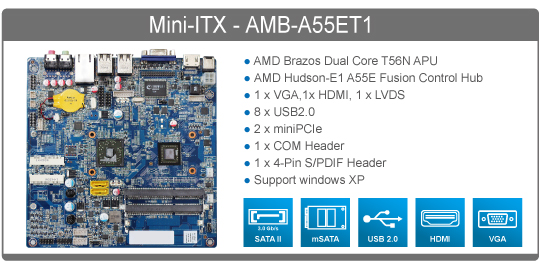 One more thing, we made a new vedio about our company, please go to this link to check it.
Contact Us:
www.acrosser.com
Receive a product quote RIGHT NOW!
http://www.acrosser.com/inquiry.html
Product Information:
Networking Appliance: http://www.acrosser.com/Products/Networking-Appliance.html
Subscribe to our social media sites and stay connected!
Acrosser Twitter
Acrosser Facebook
Acrosser Linkedin
Acrosser Google+
Acrosser Youtube
Embedded and PC-Based, 3.5 Biscuit SBC, Embedded Systems, car computer, rackmount, gaming box, Industrial touch monitor, energy & environment control, Extended Temperature,  rugged embedded computer, UTM Appliance, touch screen pc, gaming machine, All-In-One Gaming Platform, Network Server Hardware, vehicle power management, Network security, car pc